[Whitepaper] Fintech Collaboration: Real Options for Community Banks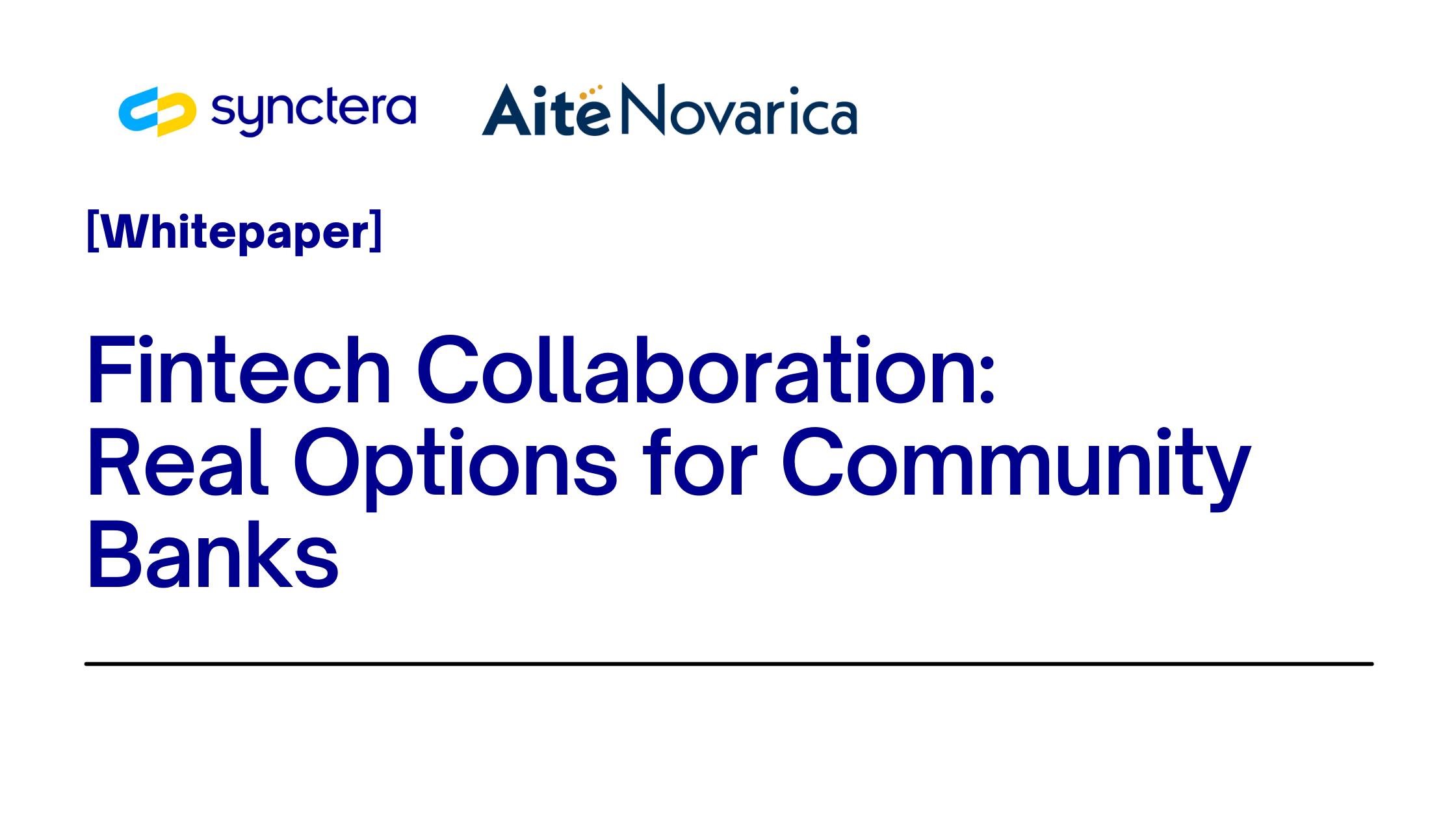 Synctera has partnered with Aite-Novarica Group to produce a report exploring why Banking-as-a-Service (BaaS) has become a major trend in the financial industry, supporting financial technology firms' needs for easy access to banking services. The study demonstrates how small and midsize financial institutions can offer BaaS to fintech firms and create new revenue streams while keeping investment and resource commitments to a minimum.
Key takeaways from the study include the following:
Digital banking capabilities will become a larger influence on consumers' willingness to do business with a financial institution, driving customers to modern digital banks. Easy-to-use online banking capabilities are an important consideration when switching banking relationships.
Fintech firms demonstrate strength in digital banking experiences, but they need bank sponsorship to offer card issuing, lending, money transfers, and other banking services. Fintech firms also generally have limited experience in compliance processes related to Know Your Customer (KYC) and Customer Identification Procedures (CIP). Banks have responded by providing BaaS to allow fintech firms and neobanks to leverage bank know-how and capabilities to reduce costs and scale more quickly.
As more and more fintech firms are looking for bank partners to provide banking services, there is a significant opportunity for banks to offer a BaaS solution and develop new relationships with fintech firms, creating new revenue streams.
Small and midsize institutions can effectively partner with fintech firms through a platform that provides the technological connective tissue and enables service delivery.
Synctera's Fintech-as-a-Service (FaaS) platform allows community banks to provide a range of banking services to fintech firms, creating new revenue streams that go beyond just interchange revenue share and include KYC, ledger, and other services.
For fintech firms, Synctera's FaaS platform simplifies the integration of banking card services into their offering. Fintech firms only need a single contract with the bank to get access to banking services through a single set of APIs, rather than contracting and integrating with multiple service providers. Fintech firms will therefore need fewer resources to acquire additional partnerships and develop new business.


One bank's story demonstrates the art of the possible in fintech firm/bank partnerships, leading to profitable new business.
You can find the link to the full report below and we encourage you to reach out to our team if you have any questions.